July or Summer is a good opportunity for Binh Thuan tourism to promote its brand name of the typical image of "blue sea-white sand-golden sunshine". In the meantime, the whole sector also focuses on promoting summer stimulus programs to lure tourists, especially domestic visitors. Reality shows that domestic tourists have recovered while international ones need more time to revive. Binh Thuan has welcomed back international tourists since March 15th, 2022, and it is expected to revive its stable growth rate by the end of this year (the peak time of foreign tourist arrivals).
As forecasted, Binh Thuan Tourism Association has actively advised businesses to offer a variety of discount programs, and stimulate tourism demand with attractive product packages to meet the needs of many customers. At the launching ceremony of "Binh Thuan tourism stimulus program - summer 2022", many tourist businesses actively responded and participated in the program so that many more opportunities can be added to attract visitors.
Particularly, Poshanu Resort has launched "Combo summer promotion 2022" with only 950,000 VND, including the following services: Room (2 adults + 2 children) from 9 am to 5 pm, lunch (or dinner) at Champa Restaurant, free swimming pool services, games, photography in the resort, and so on. This combo is applied at Poshanu Resort from June 1 to August 31 on weekdays (from Monday to Friday), but they must book the services 1 day in advance.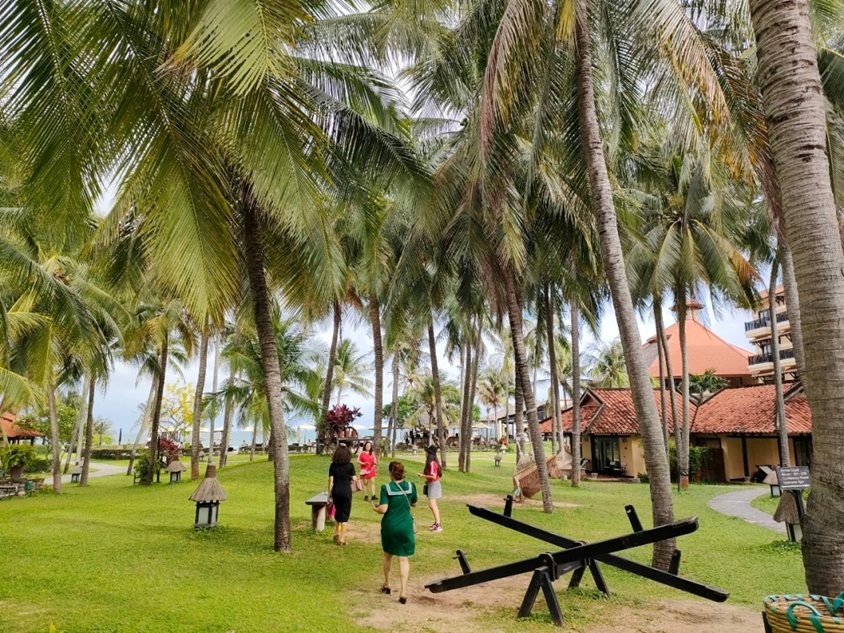 Also on the key tourist route Ham Tien - Mui Ne, the 4-star standard Sunny Beach Resort has offered a "Tropical Summer" program with VND 790,000/guest/2 days - 1 night. In addition to the private beach, infinity pool, and 15,000 m2 green garden, guests participating in the program are also served 2 meals of breakfasts and lunch (or dinner), free for 2 children under 5 years old and sharing with their parents. Likewise, the same 4-star Bamboo Village Beach Resort & Spa is currently applying the "Summer Cool" program with a package price of 1,878,000 VND/night for 2 guests (not applicable on the holiday of September 2). In which, these services include: a Deluxe room for 2 guests, a Combo meal at Dat Rom Restaurant, and 2 fresh coconuts.
In the peak summer of 2022, Binh Thuan has many other establishments that are applying for attractive discount programs, contributing to attracting tourists to the locality in the post-pandemic period. Not only do accommodation businesses participate in stimulating demand, but also a number of catering businesses join the program, such as Cay Bang Restaurant with a special program "Happy summer 2022 at Cay Bang Restaurant". Accordingly, gift Combo Voucher worth 100,000 VND (at MR.Ken Coffee & Car - Phan Thiet City) on each bill of 2 million VND. However, the program only applies from Monday to Friday in the week to the end of August 2022.
As "God of the land" of the coastal tourist city of Phan Thiet, these days I have received many phone calls from relatives and friends inside and outside the province about the plan for the upcoming vacation. Thanks to the current 2022 summer tourism stimulus program, almost all of the tourists find it very suitable for their economic conditions as well as their travel needs. Therefore, this summer, the locality is expected to welcome a great number of visitors coming to relax, do sightseeing and explore.