In early March 2022, the People's Committee of Binh Thuan issued a plan to welcome international tourists to Binh Thuan, with the aim of restoring the "smokeless industry" as well as related economic and service industries, according to the regulations approved by the Government. The procedure to lead international tourists back to Binh Thuan will follow special protocols to ensure safety and convenience for tourists, businesses and employees involved, etc. Previously, the local tourism industry also received positive signals when the whole province has more than 200 establishments (most of them are high-end accommodation establishments) qualified to welcome guests following the safety criteria on the Covid-19 prevention and control. Thanks to favorable weather, in only February 2022, Binh Thuan tourism welcomed approximately 332,800 visitors, up 25% compared to January and 13% over the same period last year. As for international visitors, in the first 2 months of the year, the number of foreign arrivals also increased compared to the same period last year, but the majority are specialists and foreigners working in Vietnam.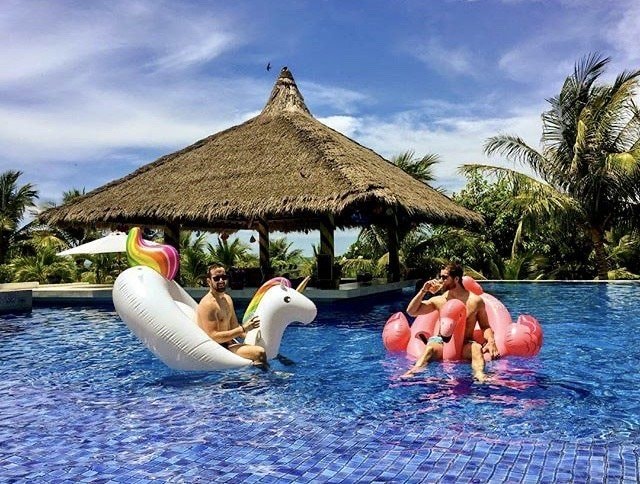 Tourists come to Binh Thuan during Lunar New Year 2022.
In response to the Provincial People's Committee's plan, the appropriate authorities also promptly issued instructions to prepare for the procedure, taking one step at a time to recover the foreign tourist market. Accordingly, the Department of Culture, Sports and Tourism announced that they allow tourism businesses to reopen and welcome international tourists from March 5, 2022 but must ensure relevant regulations. Upon meeting the conditions, enterprises wishing to welcome and serve international tourists shall send voluntary registration documents to the Department of Culture, Sports and Tourism at least 5 days before organizing or welcoming the guests (in accordance with the Ministry of Culture, Sports and Tourism's guidelines for international travel agencies, tourist accommodation establishments).
Recently in mid-March 2022, the Provincial People's Committee also issued a plan to carry out the scheme on ensuring security and safety for tourism activities of Binh Thuan in 2022, which includes a number of key objectives such as raising the society's awareness on ensuring tourism security and safety, escalating the state management while enhancing and improving tourism organization and management capability as well as completing mechanisms and policies to create a legal framework for such matters.
Thus, in the upcoming period, according to the assigned tasks, the Department of Culture, Sports and Tourism will strengthen measures to manage and properly manage business activities of tourist accommodation and travel in Binh Thuan. In addition, it also ensures that regulations are strictly implemented, creates a fair business environment and ensures timely and correct standards, regulations on licensing or appraisal of cultural, sports and tourism activities. From which, it will continue to guide and support businesses to participate in tourism promotion activities in various forms fitting the current situation as well as maintain and promote the effectiveness of propaganda, promotion and introduction of tourist destinations. Meanwhile, the People's Committees of districts, towns and cities also take the responsibilities of improving forecasting capacity, taking initiative in plans and solutions to prevent, respond to natural disasters and epidemics to create favorable conditions for tourism to recover and develop into a spearhead sector of the local economy.
To actively bring tourism into the "new normal" phase with measures to "safely adapt, flexibly, effectively control Covid-19", Binh Thuan is now ready to welcome and serve all tourists and travelers. Besides the efforts to affirm the destination of "Safety - Friendliness - Quality", the local tourism is also planning to coordinate in organizing many related activities, including a series of activities on the occasion of the 30th anniversary of the re-establishment of Binh Thuan (1992 - 2022), the contest "Vietnam aspiration: Making Phan Thiet the world's leading MICE and Wellness tourism destination in 2045" (expected from September 2022 to September 2023), proposing to host "National Tourism Year of 2023 - Binh Thuan the Green Convergence"…
In the coming time, Binh Thuan will continue to pay attention to researching, building, supplementing and perfecting regulatory documents on tourism development, along with reviewing, supplementing and promulgating standards in tourism activities in the direction: Creating favorable conditions for attracting investment and foreign tourists while ensuring national security, social order and safety...