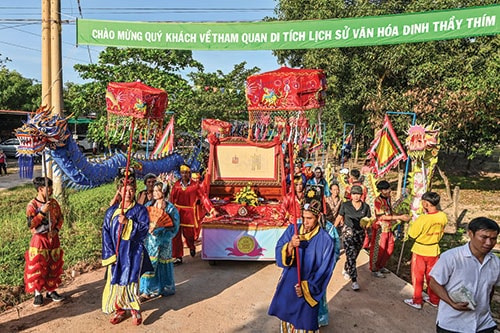 Thay Thim Palace festival.
Due to unknown the names of the respectful couple, the local residents respectfully called them Thay (Uncle) and Thim (Aunt) after their death. The previous generations of ancestors had built a palace to worship and pay tribute to the couple.
To preserve and promote the traditional culture of the festival, the provincial People's Committee has submitted a proposal on "Bringing the Thay Thim Palace festival to the list of national intangible cultural heritage" to the Ministry of Culture, Sports and Tourism.
Thay Thim Palace Festival has long been considered as a unique traditional festival that does not only serve the local community but it also serves as a common cultural heritage of many neighboring provinces and cities in the southern region. It is a lively environment in preserving and promoting traditional culture, showing the national cultural identity, and contributing to enriching the treasures of a diversity of Vietnamese cultural heritage.
Remarkably, Thay Thim Palace festival has its own great attraction to crowded visitors domestically and internationally. In recent years, the tourist volume to Thay Thim Palace festival has increasingly hit about 600,000 visitors per year. The event is now listed among the 5 extraordinary and annual festivals of Binh Thuan province.
It is necessary to raise the festival to a higher level for better preservation and promotion, contributing to boosting the province's socioeconomic and cultural developments as well as diversifying the treasure of Vietnamese cultural heritage.
Translated by My Thien (Source: Binh Thuan Online)