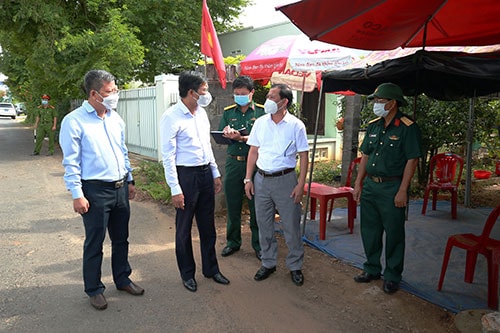 Chairman of the Provincial People's Committee discussed with leaders of Ham Thuan Bac district People's Committee.
At the checkpoints, the Chairman of the Provincial People's Committee Le Tuan Phong asked localities to strengthen their forces at the checkpoint, determine this is a long-term work, must pay attention to invest in facilities to control the pandemic in all weather conditions to ensure the health of the forces here. At the same time, it is necessary to add more warning boards, A-shaped barriers in front of the posts, Covid-19 quarantine checkpoint must be made bigger and higher so that people and vehicles on the road can see from afar and initiative in driving vehicles to the declaration point.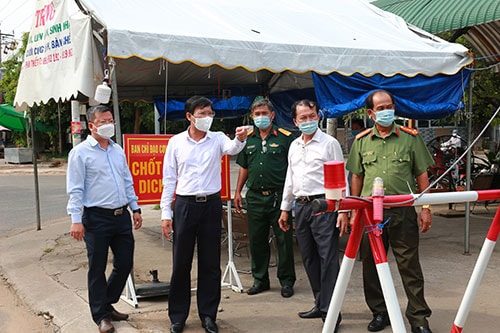 The Chairman of the Provincial People's Committee asked Phan Thiet city added a number of control boards at the quarantine checkpoint on Dang Van Lanh Street.
The localities should review and urgently install surveillance cameras at the checkpoints. Moreover, strengthening the force, rearranging the shifts in the direction of increasing, ensuring the health of members, and ensuring that the posts operate smoothly are indispensable jobs.
 The Chairman of the Provincial People's Committee also noted that localities, starting from July 5th, Binh Thuan will carry out Covid-19 testing at quarantine checkpoints. In the complicated situation of the pandemic, it is likely that people inside and outside the province will take advantage of the province's policy to get tested for Covid-19. Thereby, there will be a sudden increase in the number of people being tested at the checkpoints which can affect the traffic and the general work of the latch. Localities need to monitor in the first 3 days of operation on the effectiveness and report to the Provincial People's Committee for appropriate adjustment plans in the coming time.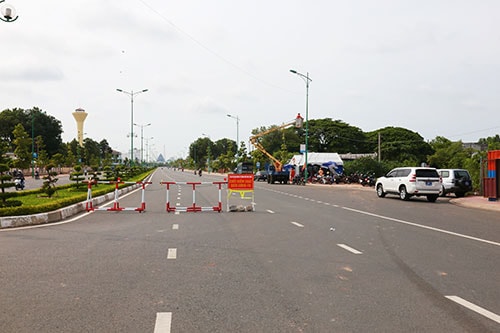 The
checkpoint is íntalling
surveillance cameras
The Chairman of the Provincial People's Committee also requested the checkpoints to strengthen the propaganda about the policy that all people from pandemic cities or provinces have to show their Proof of Negative COVID-19 test within 72 hours when entering the territory Binh Thuan province. In case of no proof available, those visitors must pay for a Covid-19 quick test following the quarantine checkpoint instructions.
This test only applies to drivers from outside entering the province. People living in Binh Thuan should go to a local medical facility capable of testing Covid-19.
Translated by Uyen Linh (Source: Binh Thuan Online)