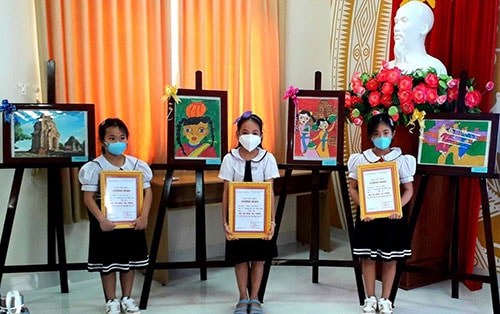 Prize-winners of the contest.
The contest, which was launched among primary and secondary students in Binh Thuan, is part of a coordination program between the department of Culture-Sports and Tourism with the department of Education and Training focusing on "Education activities via cultural heritage and extracurricular activities to learn about local cultural heritage at museums and historical relics in Binh Thuan province" period 2020-2025. According to Mrs. Lu Thai Tuyen-deputy director of Binh Thuan Museum, 8 months after being launched, the contest's organizing board has received 167 paintings (92 paintings by primary students and 75 ones by secondary students from 15 schools in the province). The participating paintings were made from various materials and unaffected thoughts of childhood about local heritage.
Due to the complicated development of the Covid-19 pandemic, contestants could not make fact-finding tours to seek creative inspiration, so this year's contest saw a reducing number of entries compared with that of the previous years. However, most of the paintings successfully expressed the view of children about cultural heritage, historical relics, and traditional festivals of ethnic minorities in Binh Thuan.
With various materials from crayon, oil-paint to grains such as rice, bean …, young amateur painters created many paintings featuring original beauty and value of local cultural heritage.  
Eventually, the jury has picked out 45 outstanding paintings for awards, including 1 first prize, 2 second prizes, 3 third prizes and 20 consolation prizes for primary students; 1 first prize, 2 second prizes, 3 third prizes and 13 consolation prizes for secondary students. Especially, Binh Hung primary school and Tran Phu secondary school were awarded as schools with the most painting entries.
The winning works will be on alternate displays and exhibitions at many schools in the province with the purpose of encouraging school children to compose and create more artworks in praise of national cultural heritage. To promote traditional culture and images of Binh Thuan people,  the organizing board will also put those paintings at Posha Inu Cham tower catering for visitors.
Translated by Phuong Lan (Source: Binh Thuan Online)