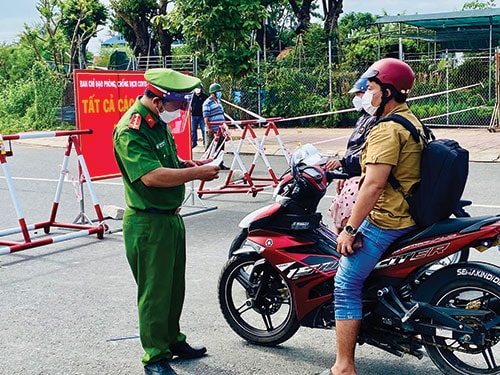 Phan Thiet closely checks people entering and leaving the red zone.
11 wards and communes in the red zone
The Steering Committee for Covid-19 Prevention and Control (CDC) of Phan Thiet city said, according to the results of the assessment of the epidemic level in Binh Thuan province as of November 19, Phan Thiet city at level 4 – red zone, in which there are 7 wards and communes of level 3; 11 wards and communes at level 4. Compared with the assessment results of the epidemic level on 11/12, Phan Thiet decreased by 1 level 4 ward - red zone; increase 2 wards of grade 3 – orange zone. Regarding the number of Covid-19 infections, as of November 20, Ho Chi Minh City Phan Thiet recorded 5,402 cases, of which 2,883 recovered. Particularly on November 20, Phan Thiet had 142 cases, including 94 community cases, the most were in Mui Ne ward with 22 cases, followed by Phu Thuy ward with 16 cases.
Steering Committee for Covid-19 Prevention and Control of Phan Thiet city informed that the situation of the epidemic is becoming more and more complicated. Disease control in some wards is not stable, especially in densely populated areas, narrow or residential markets, areas that have been blocked. Notably, there are places where there is still a phenomenon of "tight on the outside, loose on the inside", there are still new outbreaks in the community; Many new positive cases of SARS-CoV-2 were discovered with unknown sources of infection. On the other hand, community cases have continuously increased in recent times is due to incorrect and insufficient understanding of Covid-19 vaccination. Several people think that having been vaccinated with a full dose of vaccine, they are considered immune to the Covid-19 epidemic; Subjective and negligent attitude of people in the prevention of the Covid-19 epidemic, not wearing masks, not keeping distance in working and living. Thereby, leading to a very high risk of spreading the disease in the community and making it difficult to control and quickly control the outbreak.
Vaccine coverage efforts
Mr. Phan Nguyen Hoang Tan - Chairman of Phan Thiet city People's Committee shared: Following the direction of the Provincial People's Committee in Official Letter 4440 on November 20 on strengthening Covid-19 epidemic prevention and control in the province, intending to effectively control the disease, protect people's health and life comes first. The city will assess the epidemiology, geographical location, and customs of people in the red and orange zones to reorganize the epidemic checkpoints in a scientific, strict, and convenient for the people. At the same time, based on the number of new infections and the actual situation to implement the strictest isolation zoning, proactively organize testing in high-risk areas and groups of subjects to effectively screen and prevent infection sources, with appropriate handling methods for each epidemic area. Set up many mobile control teams to regularly patrol and control the implementation of epidemic prevention and control measures, and severely punish violators.
 At the same time, by using Covid-19 vaccines, wards and communes in the city have been making efforts to implement vaccination, increase the coverage rate, the rate of vaccine use. As of November 18, Phan Thiet had 80,550/170,369 people over 18 years old who had received 2 doses of vaccine, reaching 47.3%; to November 20, reaching over 50%. It is expected that by the end of November, more than 80% of people over 18 years old will have received 2 doses of the vaccine, of which more than 80% of people over 50 years old and people over 65 will receive the 2nd dose.
In addition, the City People's Committee also directed the People's Committees of wards, communes, and related units to urgently review, make statistics, and make a list of businesses, production facilities, and individual business households that are operating. motion. Thereby, all facilities are required to develop a Covid-19 prevention and control plan at their facility and be approved by the competent authority to operate. QR code is pasted in front of the gate for employees to scan the medical declaration QR code when entering work. For cases of violations beyond the competence to inspect and handle, immediately report to the city's inspection teams and teams for Covid-19 epidemic prevention and control to promptly coordinate in inspection and handling according to regulations.
In addition, the city will strictly control people entering or leaving the epidemic control points, it is necessary to make medical declarations for medical isolation or home health monitoring, and test according to regulations. Especially actively implementing F1 isolation at home, mild and asymptomatic F0 infections were piloted for home treatment to reduce pressure in concentrated isolation facilities and treatment facilities. On the other hand, strengthening and promoting propaganda to ask people to continue implementing 5K without being negligent even though they have been vaccinated against Covid-19 with 2 doses, especially important is to wear a mask when going to public places. plus, where there are many people, etc
 With enhanced epidemic prevention and control, it is hoped that, Phan Thiet city will control the Covid-19 epidemic soon, and the life of the citizens can return to a safe state.
Translated by Uyen Linh (Source: Binh Thuan Newspaper)