The Humanitarian Month 2022 runs from May 1 to 31, peaking from May 8 (World Red Cross and Red Crescent Day) to May 19 (birthday of Great President Ho Chi Minh - Founder and the first Honorary President of the Vietnam Red Cross Society). Launched in 2018, after 4 years of implementing Humanitarian Month nationwide, total donation has reached VND 1,513 billion, 144% higher than the monthly average value from other activities in the year, supported over 3.3 million poor and disadvantaged people. In Binh Thuan, the Society at all levels has mobilized 22 billion VND worth of donations, helped over 90,000 poor and disadvantaged people. It can be seen that Humanitarian Month has contributed to a drastic improvement in the awareness of the Party committees, authorities, organizations and individuals towards humanitarian work, forming a movement of solidarity and mutual love in the community, bringing out remarkable results that stand out from regular humanitarian activities.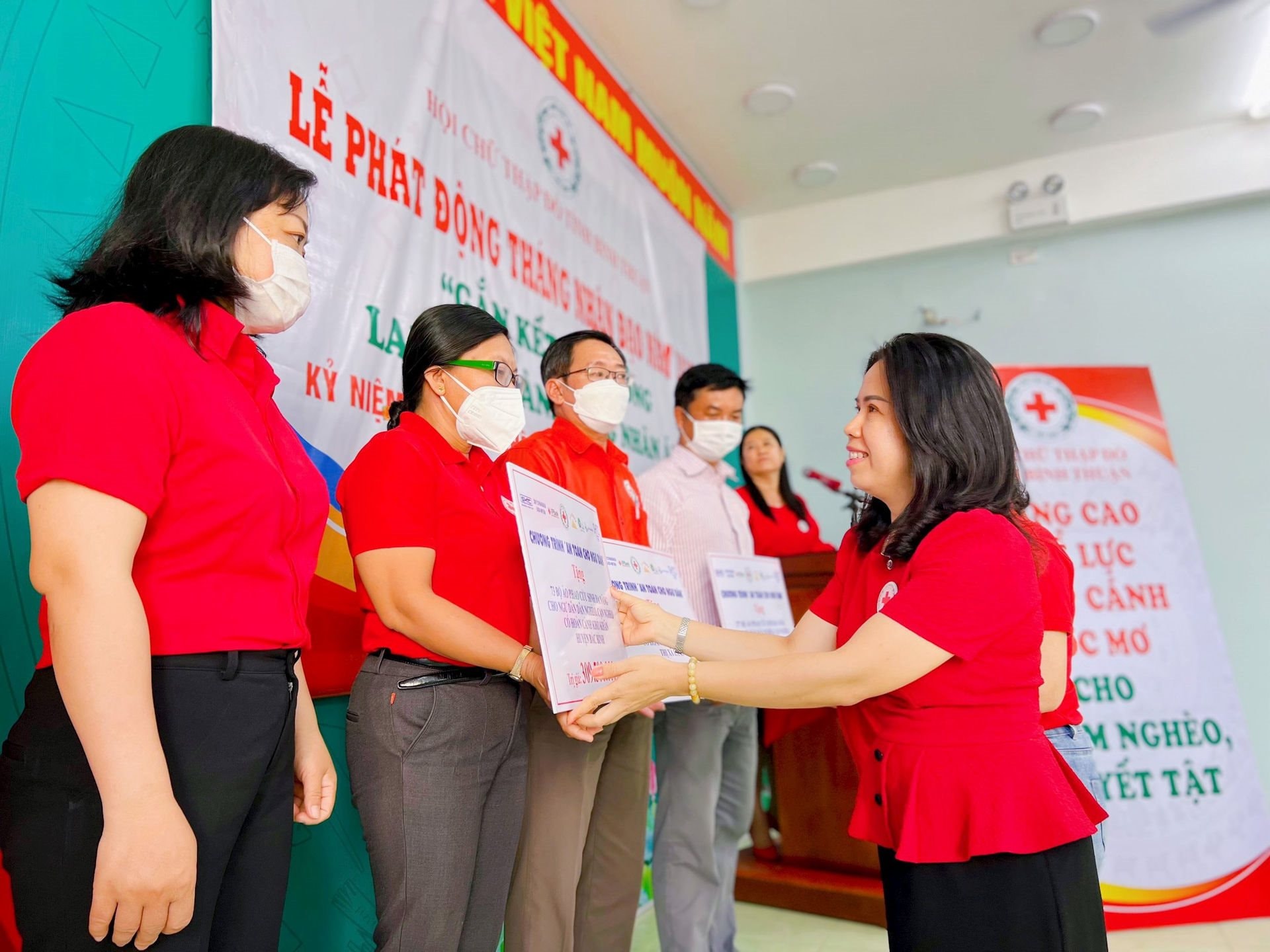 It is clear that Humanitarian Month is the peak occasion to mobilize social forces to participate in humanitarian and charitable activities, thereby contributing to building a united community and spreading charitable actions. The Red Cross Society of Binh Thuan has stepped up propaganda work and at the same time, mobilized businesses and benefactors to join hands towards the disadvantaged, together to carry out kindness activities towards the community.
Ms. Nguyen Thi Thanh Nhan - Chairman of the provincial Red Cross Society said: "With the theme "Community cohesion - spreading acts of kindness", Humanitarian Month 2022 aims to encourage people to unite by doing kind deeds. Each small act of kindness will contribute to creating a strong and widespread spillover effect, which will multiply into even more kindness activities. This is also the peak month for the Society at all levels to simultaneously carry out resources mobilizing and fund-raising activities to support vulnerable groups in the community, contributing to building a safe community. Through Humanitarian Month activities, the attention of Party committees, authorities and social forces in humanitarian work and Red Cross activities is intensified, awareness is improved, benevolent behaviors among all classes of people are promoted. Humanitarian Month activities will be widely held throughout the Society system, integrating activities to increase the spillover effect to all classes of people and ensure the requirements of Covid-19 control and prevention."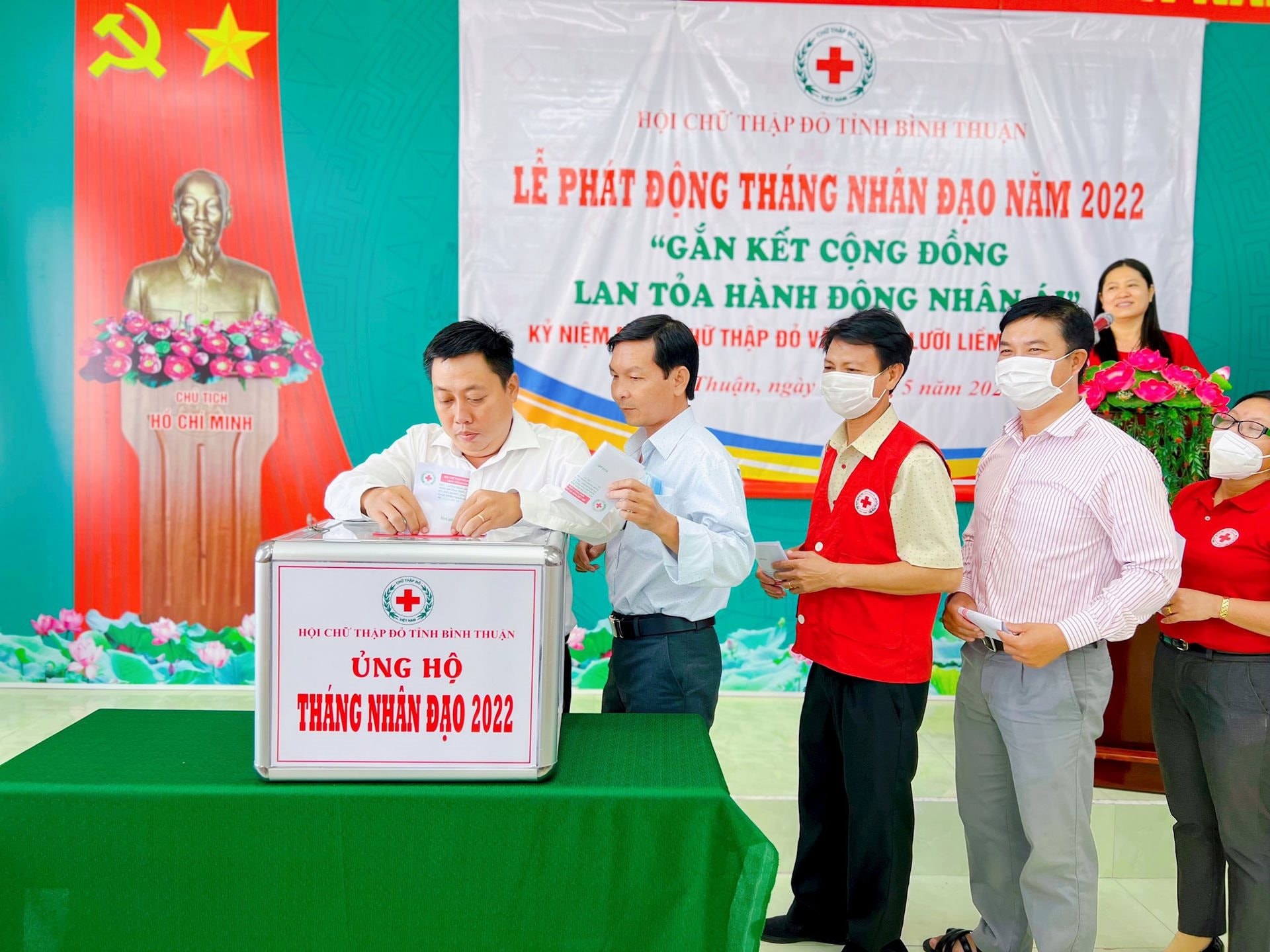 During Humanitarian Month, the Society at all levels in the province aims to support 20,000 beneficiaries with a total operating value of at least VND 6 billion. Which includes mobilizing resources to support 1,250 multi-purpose life jackets for poor coastal fishermen in the province; building 4 Red Cross houses and repairing 1 school; awarding 150 scholarships and 30 bicycles to poor, hard-working students; giving 3,500 support gifts to the poor, 800 support gifts to "humanitarian addresses"; providing free medical examination for 1,500 people, free rice for 17,400 poor patients; planning to organize 4 humanitarian fairs for 700 participants plus giving gifts to the poor; campaigning for voluntary blood donation to reach 580 blood units, etc. Besides, the whole province strives to have a humanitarian project on the occasion of the 76th anniversary of the founding of the Vietnam Red Cross Society (November 23rd, 1946 - November 23rd, 2022), strives to have at least 150 humanitarian addresses introduced and connected to the support from iNHANDAO system, in which each commune/ward/town introduces at least 1 new address and each district/town/city registers to sponsor 2-3 disadvantaged households.
Remarkably, at the launching ceremony of Humanitarian Month held by the provincial Red Cross Society on May 6th, in addition to valuable gifts provided by organizations and sponsors, the provincial Red Cross Society has also implemented two key programs throughout the next 5 years, proposed by the central Red Cross Society, namely "Safety for the poor and disadvantaged fishermen" and "Nutrition for the poor and disabled children", with the desire to encourage the whole society to join hands to help poor fishermen safely hold the sea and support to improve nutrition for poor and disabled children to help them actualize their dreams of learning and gradually change their living conditions.
With practical activities taking place during Humanitarian Month 2022, many people and families will receive love, care, sharing, health care support from all levels, sectors, communities and benefactors, thereby contributing to fostering and spreading good values ​​to the social community.