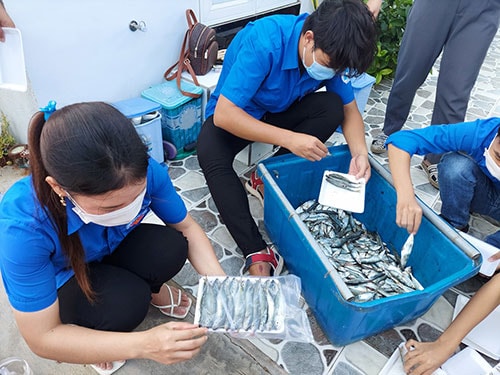 Youth members joining hands in wrapping fresh seafood as presents for people in difficulties due to Covid-19 lockdown
In response to call of authorities and organizations on supporting households with food difficulties in Binh Thuan and other localities amid social distancing order, youth and many people in Phu Quy island district have donated different kinds of seafood, advantageous products of the island, in an attempt to share difficulties and help ease food shortage during virus lockdown period, contributing to supporting the fight against Covid-19 in Binh Thuan in particular and in Vietnam in general.
The Ho Chi Minh Communist Youth Union Branch of Phu Quy district lately launched the charity program "One thousand kilos of fish plus" to mobilize local fishermen, businesses to contribute fish and other marine products as the food supply for people living in areas impacted by restrictions.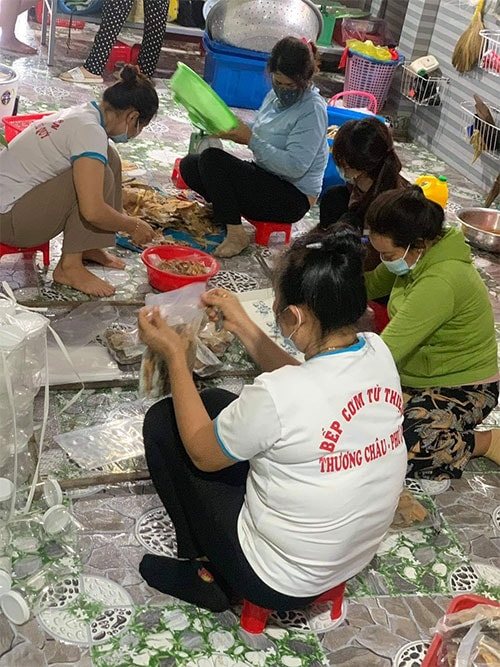 Members of "Thuong Chau-Phu Quy Charitable kitchen" processing seafood in support of poor people affected by restrictions due to Covid-19.
At least one ton of fish, along with other food products and essential commodities will be collected under this program and sent to residents in La Gi town and Tanh Linh district, two localities in Binh Thuan with the lastest Covid-19 outbreaks and being under social distancing order following the Prime Minister's Directive No.16. According to Mr. Ta Ngoc Vien Secretary of Phu Quy district's Ho Chi Minh Communist Youth Union branch, if the program earns larger sources of donations,  the program will come to other provinces/cities. After 2 days of launching, over 100 kilos of fresh fish have been collected, classified, packaged, and kept in the freezer to be ready for transport to the mainland. Besides seafood products (fish, squids…) and necessaries, the program also accepts donations in cash or transfer to the account number of Phu Quy's Ho Chi Minh Communist Youth Union branch: 4815201002001 at Agribank (Bank for Agriculture and Rural Development)-Phu Quy branch, or directly contact with Mr. Ta Ngoc Vien via phone number 0913 769 214.
The program entitled "Thuong Chau Phu Quy Charitable kitchen" was established to mobilize individuals and enterprises to donate fresh and dried seafood in order to prepared hundreds of meal portions for poor residents in lodging houses in Tan Bien ward-Bien Hoa city-Dong Nai province, as well as some poor hostels in alleys in Ho Chi Minh city, where stringent social distancing measures have been imposed.
Translated by Phuong Lan (Source: Binh Thuan Newspaper)