Agreements signed to fortify consumption and production linkage of Binh Thuan dragon fruit
Business - Ngày đăng : 15:44, 30/12/2020
BTO - The provincial Centre for Agriculture Encouragement has recently held a conference to sign a contract to strengthen the linkage between the production and consumption of Binh Thuan dragon fruit in the locality. In recent time, the Center has set up 2 linkage chains of production and consumption of dragon fruit under VietGAP standards.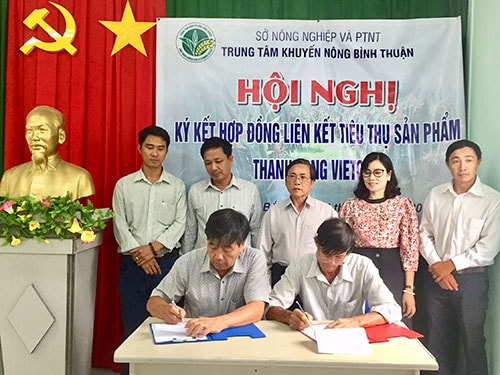 At the event.
Specially, the linkage between the purchaser (Thuan Tien dragon fruit Cooperative) and the providers including cooperatives of Thuan Hoa dragon fruit, Phu Thinh, Thuan Quy, Bac Binh, Hoa Le and other cooperatives in Ham Duc, Ham Phuc and Thuan Minh communes.
The contract covers a linkage between dragon fruit consumption and production under VietGAP standards as required. The dragon fruit must be grown following the procedures of VietGAP standards and is certified by functional authorities. Additionally, the dragon fruit no longer has residues of plant protection drugs in excess of the permitted limit in Vietnam.
The selling price of dragon fruit is regulated at VND 12,000 per kilogram in the main season and VND 16,000 per kilogram in off-season. Besides, the two parties can negotiate and give mutual support in payment if any problems arise during the progress of orders.
Binh Thuan has currently had about 33,000 hectares of dragon fruit, including 10,400 hectares of those following VietGAP standards. The contract will expand the markets of dragon fruit consumption, supporting the farmers to overcome difficulties due to the impact of Covid-19.
Translated by My Thien (Source: Binh Thuan Newspaper)