Towards  the 26th anniversary of Binh Thuan Tourism Day (October 24, 1995 - October 24, 2021):
LAND AND PEOPLE - Ngày đăng : 12:41, 23/10/2021
Binh Thuan tourism enters a new stage
BTO - After approval,  now the decision on tourism development to 2025, orientation to 2030 of the Provincial Party Committee (term XIV) is officially issued. Entering a new stage, Binh Thuan tourism aims to become a spearhead economic sector, one of the three pillars of local socio-economic development.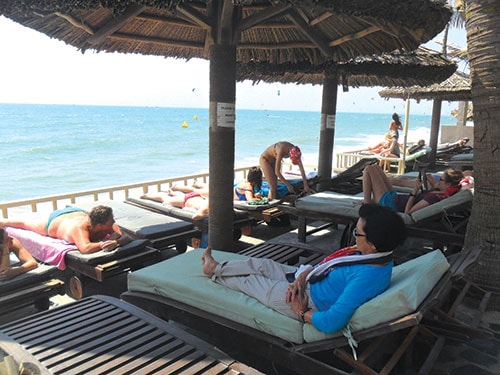 Binh Thuan tourism aims to become a spearhead economic sector (Illustration)
At this time, Binh Thuan focused on building Mui Ne National Tourist Area to become one of the leading destinations of the Asia-Pacific region.  The province is striving to welcome 8.9 million visitors in 2025 (international visitors account for 10 - 12%), revenue from tourism activities will reach 23,300 billion VND,  and contribute about 10 - 11% to the province's GRDP. By 2030, the "smokeless industry" is aiming for more impressive numbers: welcoming 16 million visitors (international visitors account for 14 - 16%), revenues of 63,000 billion VND and contributing to GRDP about 12 - 13%. With the two main targets of visitor numbers and revenue as mentioned, Binh Thuan sets an average growth target of 18 - 20% in the period of 2021 - 2025, in the period 2026 - 2030, an average increase of 20 - 22%.
Expectations for a strong development period are well-founded, because Binh Thuan has more favorable conditions to exploit its potentials and advantages and promote tourism to a worthy level. That is the North-South Expressway to the east (the section through the province), Phan Thiet Airport will be completed and put into use, the "congestion" point about overlapping titanium mining planning with tourism planning is also considered.
In addition, the tasks and solutions proposed to focus on developing Binh Thuan tourism in the next 10 years also have some new points compared to the previous periods. They are listed as building a synchronous coastal tourism urban chain, taking Mui Ne National Tourist Area as the nucleus, creating a spillover to develop Binh Thuan tourism and becoming a highlight to attract a large number of domestic and international tourists.
In developing tourism products, the locality focuses on diversifying types of tourism - sea - sport - entertainment, culture - spirituality, healthcare and convalescence, combining resort tourism - MICE, tourism Forest-sea-island eco-tourism, etc. In addition, it also calls for investment and forms a world-class marina, create a highlight to attract tourists, and at the same time build resorts combining services with entertainment, casino, high-class sports, etc. Along with promoting, local tourism also focuses on developing the domestic tourist market, cooperating with Southeast Asian countries to open direct international flights.
In the context of the impact of epidemics and unpredictable natural disasters, Binh Thuan tourism will develop in the direction of "safe - green - clean", sustainable as well as complete and apply regulations suitable to the actual situation. Especially after controlling the situation of the Covid - 19 epidemic, the tourism industry is preparing the conditions to resume operations, gradually welcoming guests back in a new normal state.
From optimistic forecasts and a series of solutions to overcome challenges, take advantage of opportunities to effectively exploit potentials and advantages, etc Binh Thuan tourism enters the upcoming journey with confidence and positive energy at the 26th year.
Translated by Uyen Linh (Source: Binh Thuan Newspaper)