Vietnamese agricultural businesses lure workers back to work
Business - Ngày đăng : 14:51, 27/10/2021
Vietnam is adapting to COVID-19 in a safe and flexible manner, which provides an opportunity for enterprises to revive their business activities. But many agricultural firms are facing a shortage of workers, which could affect their growth targets.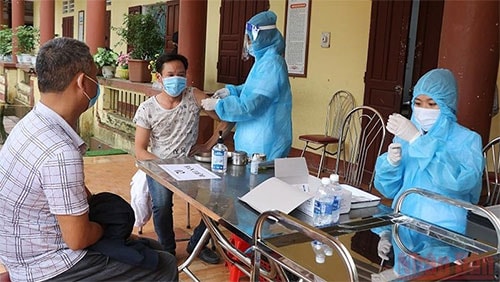 Processing passion fruits at DOVECO Gia Lai (Photo: Duc Thuy)
The shortage is most serious in the sectors of seafood, fruit, and timber as they require large workforces to harvest and process products for the domestic market and for export. It is no easy task to call former employees back to work or recruit new workers.
Soc Trang Seafood Chairman Tran Van Pham said the total workforce of his company is nearly 4,000 but currently only 1,000 are working due to the impact of COVID-19, which has forced many to return to their hometowns.
The company received quite a lot of shrimp export orders for the end of 2021 and early 2022 but had to cancel owing to labour shortages, leaving the company unsure if it will be able to retain its partners or not.
Other agricultural enterprises are facing the same situation. On the one hand, they want to boost production to capitalise on the growth opportunities in the fourth quarter and accelerate the fulfilment of signed orders to offset the losses after months of operating under capacity. On the other hand, they are unable to operate at maximum capacity due to the shortage of workers.
The fourth wave of COVID-19 has presented significant challenges to enterprises in realising the growth targets for 2021. Therefore, enterprises are making every effort to retain workers so that they can restore production to the highest level possible.
According to Deputy Director of Chanh Thu Fruit Export-Import Company Ngo Tuong Vu, currently 80% of the company's 300 employees are back to work. They have been inoculated with at least one dose, with some already being fully vaccinated.
To keep these workers, the company has given the highest priority to ensuring their safety since the start of the outbreak. Chanh Thu also maintains income at the best level for workers so that they can feel assured when working here. When the outbreak occurred, the company did not attach too much importance to growth, instead placing emphasis on sustaining production so as to recover later.
In fact, the difficulty in retaining workers is enormous as it lies not only in safety measures and income sustainability but also the psychological factor, which many companies have said is the underlying reason behind workers' reluctance to return to work. If there is no remedy for such a problem in the post-COVID period, it will be difficult to get them back.
General Director of Vinamit Nguyen Lam Vien shared that after the past outbreak, the company paid more attention to the mentalities of workers in order to promptly deal with their concerns, making them feel peace of mind at the company.
In the face of complex shifts in the labour market, the General Statistics Office has recommended some solutions to address the difficulties. Specifically, local authorities should establish official information channels to update enterprises and workers on local economic development strategies, worker support and attraction policies, testing, vaccination, and epidemic control plans so that enterprises can formulate appropriate recovery and development plans.
For its part, the Ministry of Agriculture and Rural Development has underlined the importance of prioritising vaccination for workers in the agriculture, forestry and seafood sectors to prevent the spread of COVID-19 and establish the basis for workers to soon return to work.
Enterprises also need to demonstrate their role at this time more clearly by introducing solutions on income and stabilising the psychology of workers as well as making commitments to provide certain support during the pandemic period such as the costs of travel, housing, medical care and essential goods.
SOurce: NDO