An Phuoc hospital deploys 2 mobile medical teams in support of home-based care for Covid-19 patients
NEWS - Ngày đăng : 09:12, 16/11/2021
BTO – On November 15th morning, An Phuoc has set up 2 mobile medical teams to take care of people who contracted with Covid-19 (F0) with mild or asymptomatic symptoms being treated at home. The teams run in the two wards of Phu Trinh and Phu Thuy.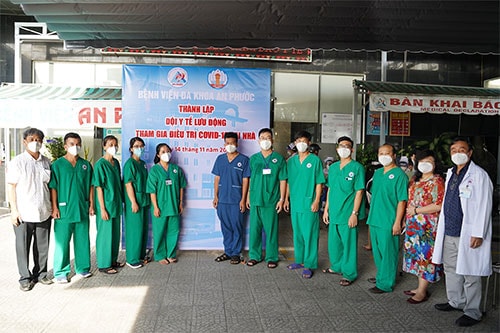 The mobile medical team of An Phuoc Hospital coordinated with the Phu Thuy Ward's People's Committee and Medical Station to exchange work before caring F0s at home
The team members used to join Covid-19 treatment at Binh Thuan Provincial Hospital of Traditional Medicine – Rehabilitation and Cho Ray Hospital (Ho Chi Minh City). Each team which has 2 doctors and 2 nurses, is equipped with medical treatment bags and emergency drugs, as well as home examination tools. The medical teams will coordinate with the local authorities to monitor the patients' health, examine and prescribe home treatment, take Covid-19 tests, etc.
Chairman of the People's Committee of Phu Thuy ward, Nguyen Hai Dang said: "Phu Thuy ward currently has 11 cases of F0s being treated at home. On November 15th morning, the mobile medical team of An Phuoc Hospital has come timely to support us. Thanks to the medical staffs' expertise and experience, the patients will receive active treatment and psychological support so that the patient can safely overcome the disease."
According to Dr. Phan Ngoc Hung, Director of An Phuoc General Hospital, in Response to the pilot implementation plan to manage Covid-19 patients at home, the hospital joins the locality in disease prevention and control, contributing to reducing the burden on the public health system and helping the localities and people overcome such difficult time."
Translated by My Thien (Source: Binh Thuan Online)