4th Navy Regional Command supports Phu Quy to fight the epidemic
Society - Ngày đăng : 14:48, 17/11/2021
BTO – In the face of the complicated developments of the Covid-19 epidemic on Phu Quy island district, the 4th Navy Regional Command sent human and material resources in support of the island district to prevent and control the Covid-19 epidemic.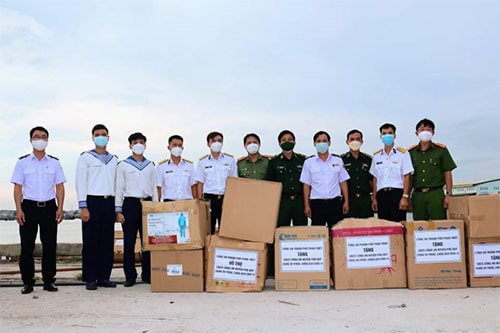 The border-guards, police forces give assistance in loading commodities onto the cargo
Accordingly, the 4th Navy Regional Command has mobilized a military medical force of 5 doctors and nurses and 2 trucks to transport medical equipment and supplies such as level-2 PCD clothes, hand sanitizer, sprayers, gloves, masks, and some medicines to join the islanders to fight the epidemic.
When arriving on the island, the medical staff of 4th Navy Regional Command will coordinate with the local health sector to organize testing, separate F0s from the community, collect and treat Covid-19 infected cases. At the same time, they strictly abide by the regulations on epidemic prevention and control, and discipline the military and people; ensure safety during the performance of tasks, contribute to joining hands with the locality to win the pandemic, and help the islanders gain stable life.
Translated by My Thien (Source: Binh Thuan Online)