Clean energy development helps Vietnam reduce dependence on imports: official
Society - Ngày đăng : 09:29, 16/11/2021
The increasing proportion of clean energy such as solar and wind power in recent years has helped Vietnam diversify energy sources and reduce its dependence on imported energy, thus enhancing its national energy security, said Director of the Ministry of Industry and Trade's Department of Electricity and Renewable Energy Hoang Tien Dung.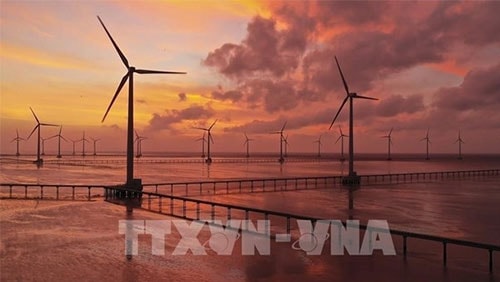 Vietnam is in the process of energy transition. - Illustrative image (Photo: VNA)
In a recent interview granted to the Vietnam News Agency (VNA), Dung underlined the important role of energy in the process of electricity production, as well as in all economic activities, saying that this will affect Vietnam's economic recovery in the coming time as Vietnam is in the process of energy transition.
According to the official, many countries around the world are facing an energy crisis, which puts them at risk of power shortages.
At the 26th United Nations Climate Change Conference of the Parties (COP26) in Glasgow, the UK, Vietnamese Prime Minister Pham Minh Chinh pledged to achieve the target of net-zero emissions by 2050.
However, ít is not easy to carry out the energy transition towards green energy while ensuring national energy security in this process, Dung said.
He stressed that it is necessary to promote energy saving and efficient use to reduce the demand for energy.
The development of renewable energy sources should be stepped up with a feasible roadmap suitable to the investment cost for renewable energy technologies and selling prices of electricity, he said, adding that attention should be also paid to developing infrastructure serving the import of electricity and primary energy.
Vietnam is a net energy importer with significant imports of coal and oil at present, and liquefied natural gas (LNG) in the near future. The biggest impact from the current energy crisis on Vietnam's energy industry can be seen that the prices of imported energy will increase in accordance with the global energy prices.
For Vietnam, ensuring the supply of fuel and energy in the short term has not yet faced complicated issues thanks to long-term coal and gas import contracts. However, ensuring the supply of fuel for domestic coal and gas-fueled power plants in the coming time requires unified management.
The development of renewable energy sources must be carried out in harmony with the development of the country's electricity system in particular and the energy system in general, he said.
According to the official, the radical development of renewable energy sources is an inevitable trend, but it is also necessary to consider issues related to ensuring the reliability of power supply, diversification of power sources and ensuring that electricity prices are affordable.
Source: NDO