Bánh căn: a rice flour dish baked in terracotta molds, usually served with a dipping sauce of fish sauce and lemon pulp, as well as pork greaves, boiled eggs, and other ingredients.
Among those traditional dishes mentioned above, bánh căn is perhaps the most popular choice for tourists when they pay a visit and relax in Phan Thiet City. As Lonely Planet suggested, the best way to provide tourists with a food and beverage experience is to sample local street signatures.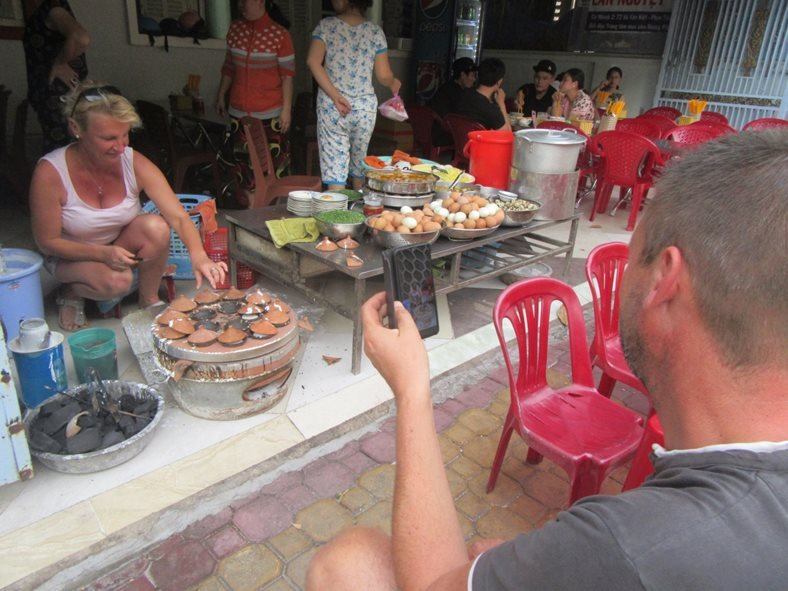 Indeed, bánh căn is no longer a foreign dish, having appeared in places like Nha Trang, Da Lat, and Vung Tau. Despite the similar ingredients and making process, travelers' opinions still vary. Most of my acquaintances, relatives, and friends cannot visit Phan Thiet without trying it. They also stated that the taste and image of people huddling around a burning coal stove, waiting to take out each pair of bánh căn while they are still hot, is unforgettable.
Especially with bánh căn in Phan Thiet, despite being an affordable street food, it is dedicatedly prepared in order to entice tourists. The main ingredients consist of rice soaked in water for a few hours, with a little cold rice added before grinding for a spongy and crispy texture. However, "the soul" of Phan Thiet's bánh căn lies in the dipping sauce, which is a combination of crushed chili, caramelized sugar, lime pulp, and pure fish sauce.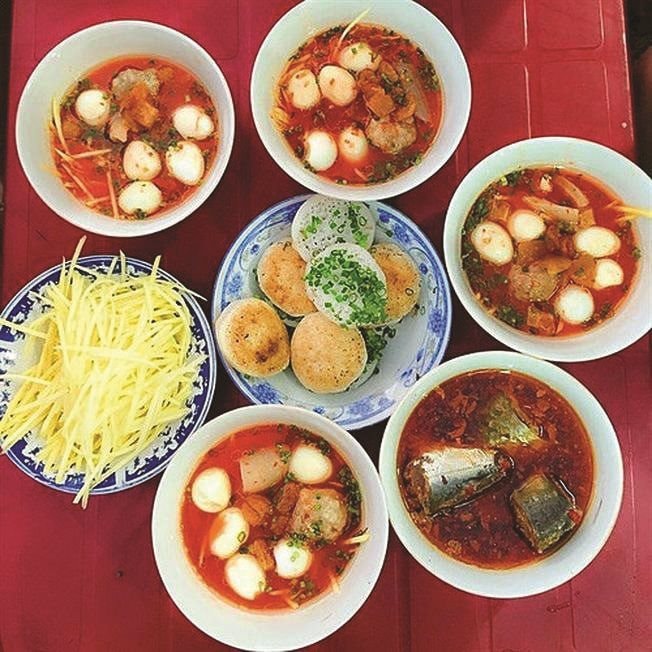 The preparation stage requires chopped green onions, pork rinds and greaves, shumai, boiled eggs (either from chickens, ducks, or quails), braised fish, shredded green mango, etc., as well as a brazier with some terracotta molds for pouring and forming the liquid mixture. Diners often have to wait for their turn if they wish to enjoy bánh căn. They would sit comfortably next to a bowl of dipping sauce with all the ingredients of eggs, fish, meat, and pork greaves, with the sour taste of mango being irresistible to the taste buds. Each hot and crispy cake is taken out of the hot fire continually, then soaked through the layer of finely chopped onions, eventually put into the bowl of dipping sauce and thoroughly mixed. Its appetizing aroma always raises our desire, making us crave the dish until satisfied.
Locally, the topic "Building a model for conservation and exploitation of intellectual property in the culinary field of Binh Thuan (fish cake noodle soup, bánh căn, hot pot) and gift specialties (Phan Thiet fish sauce, sun-dried squid, dragon fruit) to promote tourism development in Binh Thuan" has been implemented in recent years. The plan also offers some solutions to effectively exploit and promote local culinary culture in order to attract a large number of tourists to Binh Thuan.
Most of the main streets in Phan Thiet now sell bánh căn, and this dish is even more famous by once being known and introduced by "king chef" Martin Yan on various tourism-cuisine television channels. Therefore, Phan Thiet's bánh căn is not only preferred by the majority of domestic guests but also draws international visitors due to its unique preparation and flavor.
On a rainy afternoon in Saigon amidst summer, a friend of mine called to say that they missed the taste of bánh căn. They'll probably drive to Phan Thiet this weekend, to sit on the side of the road and enjoy the cool breeze of the coastal city, while waiting for each pair of hot cakes...