Following the series of activities "Winter Volunteering" in 2021 and "Volunteer Spring" in 2022, the Youth Union of the Central Business Bloc organised a programme in collaboration with Lao Cai Provincial Youth Union to support people living in border areas and islands.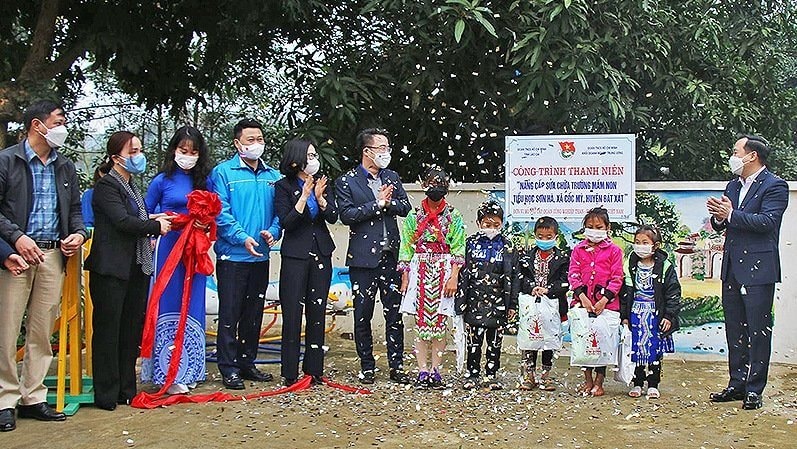 The programme took place in Lao Cai Province on January 18-19, with many specific activities associated with social security work, especially the provision of financial support to build 20 houses with a total value of 1 billion VND.
Furthermore, the organising board of the programme also handed over the youth project "Upgrading and repairing Son Ha Kindergarten and Primary School" (Coc My Commune, Bat Xat District), worth 135 million VND, and inaugurated a house of gratitude for Tan San May's family (Ta Ao Village, Ban Qua Commune, Bat Xat District), worth 50 million VND.
Within the framework of the program, the delegation of the Youth Union of the Central Business Bloc and Lao Cai Provincial Youth Union gave 500 gifts worth 250,000 VND each to local people who have been negatively affected by the pandemic, and visited and gave 20 gifts to students, people in difficult circumstances, and policy beneficiary families in Lao Cai Province.
At the Ban Qua copper smelting factory and the Sinh Quyen copper mine (both in Bat Xat District), the delegation visited and gave 20 gifts to young workers in difficult circumstances with efficient production.
* On January 18 and 19, a delegation from Quang Nam Province, led by member of the Party Central Committee, Secretary of the Provincial Party Committee cum Chairman of the Provincial People's Council Phan Viet Cuong, visited and presented gifts to retired cadres, village elders, and reputable people among ethnic minorities and the poor in mountainous districts along the border of Tay Giang and Dong Giang on the occasion of the 2022 Lunar New Year.
* The People's Committee of Dak Nong Province and the Vietnam Posts and Telecommunications Group (VNPT) held a ceremony in Gia Nghia City on January 19 to review the strategic cooperation agreement on Telecommunication and Information Technology in the 2016-2020 period as well as a signing ceremony for a cooperation agreement for the 2022-2025 period .
Within the signing ceremony, the VNPT presented students with difficult circumstances in Dak Nong Province with 1,080 tablets, worth 2.7 billion VND, contributing to helping them overcome equipment difficulties in the learning process due to the impact of the COVID-19 pandemic.
* Thanh Hoa Provincial Youth Union coordinated with sponsors to organise a programme to visit and give gifts totalling more than 300 million VND to disadvantaged people and young people in the communes of Nga Thai and Nga Tien in Nga Son District, Thanh Hoa Province, on January 19.
* On the occasion of the Lunar New Year, the system of GO!, Big C and Tops Market supermarkets (under Central Retail Vietnam Group) have coordinated with the Vietnam Red Cross Society and local authorities to organise Tet care programmes for disadvantaged families. In total, there will be more than 4,000 gifts, equivalent to 450 million VND, presented by Central Retail Vietnam.